The Affair of the Necklace (2001)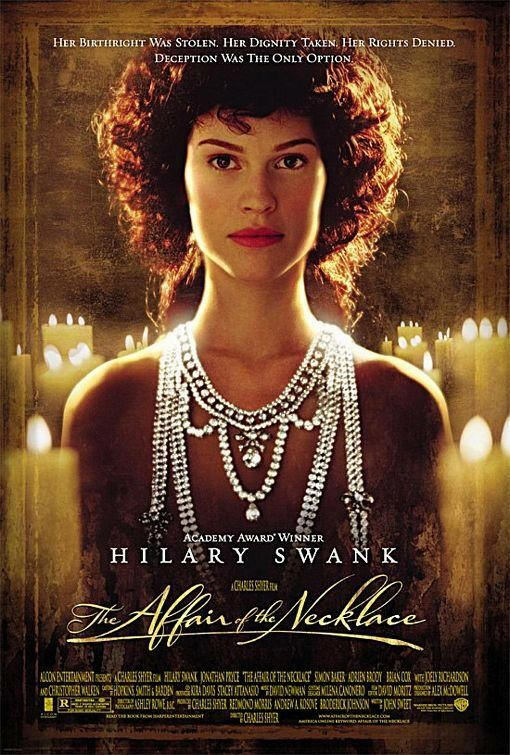 Length: 118 minutes (1 hour, 58 minutes)

Age appropriateness: The Affair of the Necklace is rated "R" in the United States. This film features little gory violence or profanity, but does include partial nudity (female breasts). The sexually-charged content (to be expected in any Hollywood movie set in 18th-century France) makes this film inappropriate for classroom viewing, but most parents should find it okay for home viewing by mature teens.

Creators and stars: Adrien Brody, Brian Cox, Charles Shyer, Christopher Walken, Frank McCusker, Hayden Panettiere, Helen Masters, Hilary Swank, James Larkin, Joely Richardson, John Sweet, Jonathan Pryce, Kristina Bill, Paul Brooke, Peter Eyre, Simon Baker, Simon Kunz, Simon Shackleton

Accuracy: This film is based on a true story, with some trivial facts changed. For example, Jeanne had an affair with Rohan (in addition to de Vilette). Jeanne received a small stipend from the crown prior to her arrest. Jeanne's husband (de la Motte) sold the diamonds from the necklace in London, not in Paris. Rohan ordered the destruction of his papers after, not before, his arrest. Overall, for a big-budget Hollywood film, The Affair of the Necklace surprisingly sticks to the facts. It's no wonder that this scandal was so popular when it broke (1780s).

Review: A film based on true events, The Affair of the Necklace tells the fascinating story of how Jeanne de Valois-Saint-Rémy (Comtesse de la Motte) used cunning and manipulation to gain money and power, all in order to work her way into the French Bourbon court at Versailles. From an educative perspective, this movie allows viewers to see the inner workings at court, the wanton depravity and self-indulgence of the noble class and high-ranking clergy, and the growing unrest of the peasantry. I recommend watching this film for family movie night with your mature teen before he or she begins studying the French Revolution because of the wealth of historical, social, and political background information The Affair of the Necklace provides.
| | | | | | | | | | | |
| --- | --- | --- | --- | --- | --- | --- | --- | --- | --- | --- |
| | | | | | | | | | | |
| | Brian Cox as Minister Breteuil | | Hilary Swank as Jeanne St. Remy de Valois | | Hayden Panettiere as young Jeanne St. Remy de Valois | | Joely Richardson as Marie Antoinette | | Hilary Swank | |
| | | | | | | | | | | |
| --- | --- | --- | --- | --- | --- | --- | --- | --- | --- | --- |
| | | | | | | | | | | |
| | Adrien Brody as Count Nicolas de la Motte | | Christopher Walken as Count Cagliostro | | Adrien Brody and Hilary Swank | | Jonathan Pryce as Cardinal Louis de Rohan | | Simon Baker as Rétaux de Vilette | |
Vocabulary terms and names: arrest, Bastille, Cardinal Louis de Rohan, comte/count, comtesse/countess, Count Cagliostro, Count Nicolas de la Motte, deceit, diamond, France, forgery, intrigue, Jeanne St. Remy de Valois, Louis XVI, malcontents, Marie Antoinette, monarchy, necklace, noble title, orphan, Paris, petition, Rétaux de Vilette, royal family, royalty, scandal, trial, Versailles
The Affair of the Necklace Movie Review Publication Date for Citation Purposes: June 15, 2012