The Wind That Shakes the Barley (2006)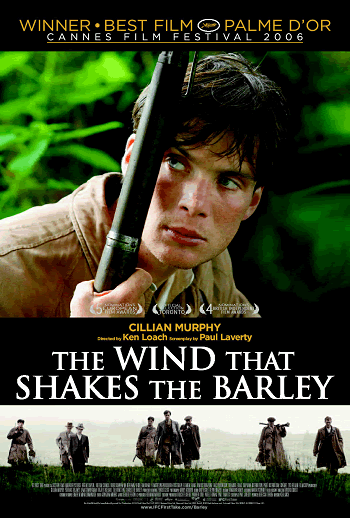 Length: 127 minutes (2 hours, 7 minutes)

Age Appropriateness Rating: The Wind that Shakes the Barley is not officially rated in the United States. This is a war film, so you can expect to see violence and hear some rough language. It all fits the film's historical and realistic setting, though. This movie is safe to show in a high school classroom.

Creators and Stars: IFC Films, Andrew Lowe, Bill Hurst, Camilla Bray, Cillian Murphy, Damien Kearney, Frank Bourke, Frank O'Sullivan, Jamie Lomas, Ken Loach, Laurence Barry, Liam Cunningham, Mark Wakeling, Mary Murphy, Mary O'Riordan, Myles Horgan, Orla Fitzgerald, Padraic Delaney, Paul Laverty, Rebecca O'Brien, Roger Allam, Sean McGinley, Ulrich Felsberg, William Ruane

Historical Accuracy: The Wind that Shakes the Barley features fictional characters in a historically accurate setting. The movie is set in Ireland's County Cork during the Irish War of Independence (1919-1921) and the Irish Civil War (1922-1923). The debates and drama between the characters explain the varying viewpoints on Irish independence, and allow viewers to understand the historical background for the Irish Troubles which rose up in Northern Ireland in the late 1960s.

Review: This film is an excellent tool for illustrating the movement for independence from British rule in early twentieth-century Ireland. Students will need an overview of the movement before viewing the film, but should be able to follow along fairly easily. The only thing that might give non-Irish students trouble is the Cork accent. (I've spent a significant amount of time in Ireland and conversing with Irish in the U.S., and I had to listen carefully to understand what was being said in the film.) Typical American high school students may imagine that they are hearing a foreign language (and there are, indeed, wee bits of Irish Gaeilge thrown in here and there). You might consider turning on the English subtitles in the DVD settings. Click here to enlarge the film poster.
Vocabulary Terms: amnesty, Anglo-Irish Treaty, Black and Tans, British, colony, Dail Eireann, dominion status, empire, execution, Fenian, guerrilla warfare, hurling, independence, IRA (Irish Republican Army), Ireland, Irish Free State, Irish Republic, kangaroo court, loyalty, oath, Parliament, partition, redistribution of wealth, Royal Irish Constabulary, Sinn Fein, soldiers, traitor, truce, war

Recall and Discussion Questions:

(1) What sport is being played at the beginning of the film?
(2) What group of infamous military men accuses the young men of breaking the law by forming a group to play the game?
(3) Why does Damien refuse to identify himself when he is arrested?
(4) Why does Damien execute Chris?
(5) Why are many people opposed to the Anglo-Irish Treaty?
(6) How does the Catholic Church in Ireland view the treaty?
(7) Describe the evolution of the relationship between the brothers Damien and Teddy.
(8) Imagine that you are an Irish person living during this time. Would you support the treaty? Why or why not?
The Wind that Shakes the Barley Movie Review Publication Date for Citation Purposes: May 24, 2012