The Pillars of the Earth (2010)
Release date: 2010

Reviewer: Ms. Fox

Length: 8 episodes, each about 52 minutes long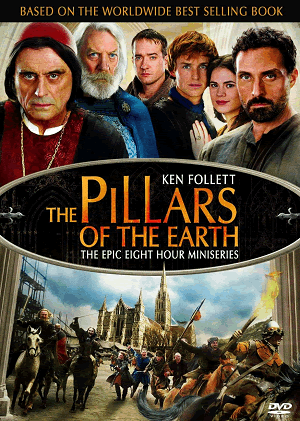 Age appropriateness: This cable television mini-series has some violent and sexual content, but we would consider it fairly "non-gratuitous" (as compared to most of the "historical" programming seen on premium cable TV). However, due to nudity, sexual content, and violence, "The Pillars of the Earth" is inappropriate for classroom viewing, and parents should be forewarned.

Creators and stars: Eddie Redmayne, Hayley Atwell, Ian McShane, Matthew Macfadyen

Accuracy: Set during the Anarchy Period in English medieval history (12th century), the story's plot (the building of an English cathedral) is fiction. However, Queen Maude (b.k.a. Empress Matilda), Henry I, and King Stephen, though minor characters in the film adaptation, are portrayed accurately enough for a secondary school-level history course.

Review: Sadly, the length of this film (along with some adult content) renders it impractical for classroom viewing. However, it is great for "family movie night" among students of high school age. Well-made, modern films touching on this part of the European Middle Ages are rare. Based on a popular book, the story follows the trials and tribulations of a group of characters over their lifetimes spent during the building of a fictional cathedral. Viewers have the hows and whys of cathedral construction explained in an entertaining way, all while gaining insight into the lives of the various socio-economic classes and the politics of the age.
The Pillars of the Earth Movie Review Publication Date for Citation Purposes: December 10, 2010