Surviving Progress (2011)
Release date:
2011
Length:
86 minutes (1 hour, 26 minutes)
Reviewer:
Ms. Fox
Age appropriateness:
Surviving Progress
is not officially rated in the United States. This documentary film does not contain anything that can't be viewed by all. In terms of content, the complex issues discussed are most appropriate for mature high school students.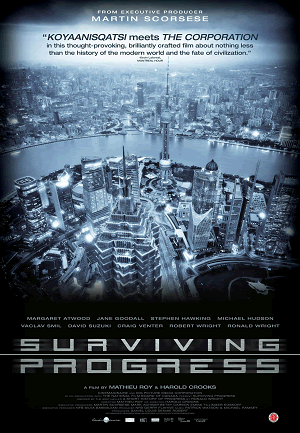 Creators and stars:
Betsy Carson, Chen Changnian, Chen Ming, Colin Beavan, Daniel Louis, Daniel Povinelli, David Suzuki, Denise Robert, Emma Tillinger Koskoff, Enio Beata, Gary Marcus, Gerry Flahive, Harold Crooks, J. Craig Venter, Jane Goodall, Jim Thomas, Kambale Musavuli, Louis-Martin Paradis, Margaret Atwood, Marina Silva, Mark Achbar, Mark Levine, Mario Janelle, Martin Scorsese, Mathieu Roy, Michael Hudson, Raquel Taitson-Queiroz, Robert Wright, Ronald Wright, Silva Basmajian, Simon Johnson, Stephen Hawking, Vaclav Smil, Victor Zhikai Gao
Review:
Surviving Progress
critically examines what is meant by "progress," and how the world's increasingly complex and growing technologies, economic systems, and populations threaten to destroy the "experiment" of human civilization itself.
The interviewees offer interesting perspectives on current events and issues. Some of this movie's content may be beyond the grasp of high schoolers, but the cinematography and interviews should help students to retain interest.
To make sure that the kids get as much out of
Surviving Progress
as they can, try using the vocabulary terms and review questions below, and hold a discussion on the film's content after your classroom viewing. Before watching the film, have students discuss how they would define "progress." Discuss the meaning of "progress" again after the film, comparing their answers.
Accuracy:
Surviving Progress
includes interviews with respected leading thinkers from around the world. This documentary film is based on the book
A Short History of Progress
by Ronald Wright. Click
here
to enlarge the official film poster.
Vocabulary terms: chimpanzee, civilization, consumption, economics, environment, externalities, debt, human nature, humanity, imperative, modern technology, morality, natural capital, oligarchy, overpopulation, progress, progress traps, self-discipline, self-interest, synthetic biology

Review and discussion questions:

(1) According to Gary Marcus, what is the primary difference between how chimpanzees and humans think?
(2) Summarize the modern history of progress in China, according to Victor Gao.
(3) Describe the decline and fall of ancient Rome in economic and ecological terms.
(4) How has Third World debt been created?
(5) Why did South American countries begin selling off their rain forests?
(6) Why, according to some interviewees, must human beings begin to live using less?
(7) Has this documentary film changed how you view your own level of consumption?
Surviving Progress Movie Review Publication Date for Citation Purposes: May 18, 2012