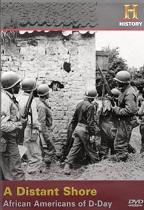 Length:
50 minutes
Age appropriateness rating:
We recommend this film for high school students. The violent battles and language (the "n" word is used several times) may be too much for more immature kids to handle.
Creators and stars:
History Channel, Douglas Cohen, Yvonne Latty
Accuracy:
The accuracy here is spot-on. "A Distant Shore: The African Americans of D-Day" features interviews with seven African-American veterans of D-Day, and includes a lot of historical images.
Review:
This documentary won an Emmy in 2008 for Outstanding Historical Programming. We highly recommend this video. It is appropriate viewing for World History and American History students studying World War II. The video includes tons of information on both military segregation and the actual invasion of Normandy.
Miscellaneous:
The History Channel has a thorough teacher's guide available
here
. You can find this video in many libraries. It is also played yearly on the History Channel in February (for Black History Month) and in June (in memory of D-Day).
Click
here
to purchase the DVD.
A Distant Shore: African Americans of D-Day Movie Review Publication Date for Citation Purposes: May 1, 2009