An American Tail: Fievel Goes West (1991)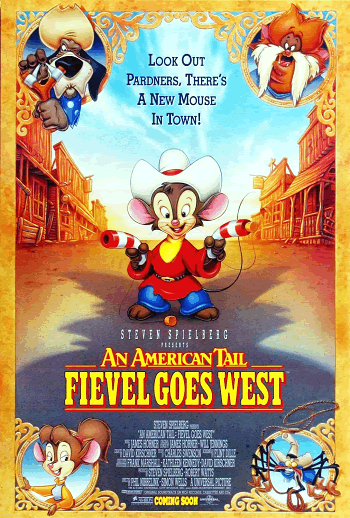 Length: 75 minutes (1 hour, 15 minutes)

Age appropriateness: An American Tail: Fievel Goes West is rated "G" in the United States. This classic animated film by Steven Spielberg is safe for all ages.

Creators and stars: Amy Irving, Cathy Cavadini, Charles Swenson, David Kirschner, Dom DeLuise, Erica Yohn, Flint Dille, Frank Marshall, Jack Angel, James Horner, James "Jimmy" Stewart, John Cleese, Jon Lovitz, Kathleen Kennedy, Lev Mailer, Nehemiah Persoff, Phil Nibbelink, Phillip Glasser, Robert Watts, Sherry Lynn, Simon Wells, Steve Hickner, Steven Spielberg, Vanna Bonta

Accuracy: An American Tail: Fievel Goes West continues Fievel's story, following him and his family as they migrate to the Western prairie of the United States. Along with the use of our free movie-related educational materials below, this movie provides a great opportunity to introduce young kids to this period in American history.

Review: An American Tail: Fievel Goes West is an entertaining animated feature film set in the Wild West of the 1800s. It is not quite as good as the original "An American Tail," but kids are sure to enjoy it all the same. Click here to enlarge the film poster.
Activities and questions for kids: (1) Create a character booklet. On each page, draw a picture and write a description of each of the following characters: Cat R. Waul, Chula, Fievel, Mama, Miss Kitty, Papa, Tanya, Tiger, Wylie Burp. (2) What was life like for Americans who migrated from the eastern states to the western states and territories in the 1800s? (3) Imagine that you live in New York City in the 1800s. Would you want to move West? Why or why not? Explain your answer.

Vocabulary terms: Bronx, fiddle, hero, homestead, immigrants, land, mice, migrate, mouse, New York City, prairie, sheriff, singer, stagecoach, train, water, Wild West
An American Tail: Fievel Goes West Movie Review Publication Date for Citation Purposes: June 15, 2012