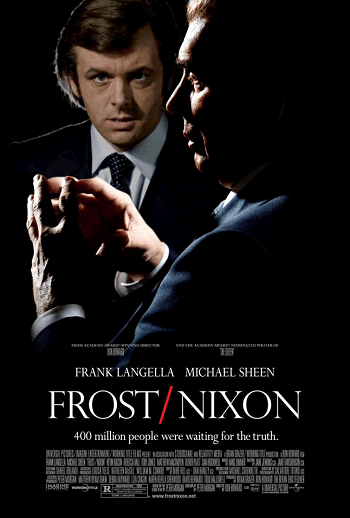 Length: 122 minutes (2 hours, 2 minutes)

Age appropriateness: Frost/Nixon is officially rated R in the United States. There are separate split-second views of a man's and a woman's rear end. The film features some profanity. It is rather surprising that this film did not instead receive a PG-13 rating. Most teachers would find Frost/Nixon safe viewing for a high school classroom.

Creators and stars: Andy Milder, Clint Howard, Daniel Orlandi, Eloy Casados, Frank Langella, Hans Zimmer, Imagine Entertainment, Kate Jennings Grant, Kathleen McGill, Kevin Bacon, Louisa Velis, Matthew MacFadyen, Michael Sheen, Oliver Platt, Patty McCormack, Peter Morgan, Rebecca Hall, Relativity Media, Ron Howard, Sam Rockwell, Studiocanal, Toby Jones, Todd Hallowell, Universal Pictures, William M. Connor, Working Title Films

Accuracy: Frost/Nixon is based on Peter Morgan's stage play of the same name. This film focuses on Richard Nixon's 1977 television interviews with David Frost. Dramatic license is taken with some characters, as well as with a scene in which former president Richard Nixon places a late-night phone call to David Frost.

Review: Frost/Nixon has been criticized for assigning more importance to the David Frost-Richard Nixon interviews than they deserve. This may be true. The film has likewise been praised (it received five Academy Award nominations), in particular for its terrific performances.

From an educational perspective, Frost/Nixon illustrates how much the unanswered questions of Richard Nixon's presidency continued to consume the country years after he left office. I'm of an age that my high school teachers lived through this time period. My high school memories are filled with the highly charged thoughts expressed by my history teachers (both liberal and conservative) on Nixon's presidency. I am now old enough to realize that the men and women who taught me are now retired. This inevitably means that the Watergate scandal is no longer being taught by teachers who watched the events unfold in the media.

Watching Frost/Nixon was a bit of a flashback in terms of seeing "those who were there" express their opinions on "Tricky Dick." And amazingly, the film is quite fair to both sides. That is, the liberals are not portrayed as irrational, needlessly angry, dirty hippies, while the conservatives are not shown as overly stodgy curmudgeons. Scenes include tough questions being asked about cover-ups, while other scenes allow Nixon to elaborate on his successes in areas such as foreign policy.

Will this film teach kids all about Watergate? No. And for that reason, I do not recommend utilizing two hours of valuable class time watching this film. But for students studying the Nixon presidency, this film is well worth watching at home for its insight into the lingering political issues that dominated the press and popular mindset for many years following Nixon's resignation. Click here to enlarge the film poster.
Review and discussion questions: (1) To where did Richard Nixon retire after resigning from the presidency in 1974? (2) What did people (like the journalist depicted in the film, James Reston, Jr.) want to hear from Nixon? (3) Richard Nixon was accused of what crimes? (4) Define executive privilege in your own words. (5) In your opinion, was Gerald Ford's pardoning of Richard Nixon justified? Why or why not? (6) Create a table graph listing the positives and negatives of Richard Nixon's presidency.

Vocabulary terms and names: Charles Colson, David Frost, enemies list, executive privilege, interview, James Reston, obstruction of justice, pardon, Richard Nixon, television network, Watergate, wiretapping
Frost/Nixon Movie Review Publication Date for Citation Purposes: January 12, 2013