Harrison's Flowers (2000)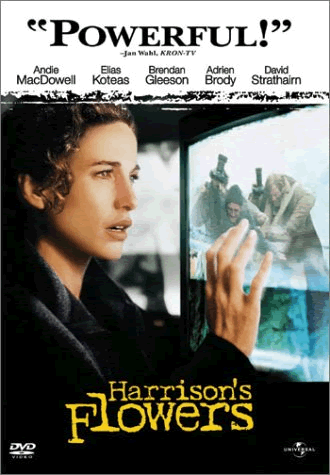 Length: 121 minutes (2 hours, 1 minute)

Age appropriateness: Harrison's Flowers is rated "R" in the United States. The film is full of incredibly violent and graphic war images. However, these images are an accurate depiction of the violence that occurred in Yugoslavia in 1991. The only truly inappropriate content is the brief scene of drug use by Kyle Morris (played by Adrien Brody). He is shown casually using cocaine early in the film. This plot device serves as the precursor for a fight between characters--a fight which explains Kyle's actions later in the film. However, the writers could have used something other than drug use to precipitate this fight. This film can probably be shown in a classroom, but only to mature students. Given the film's lengths (just over two hours), a classroom teacher might be better off just showing a lengthy clip.

Creators and stars: Elie Chouraqui, Andie MacDowell, Elias Koteas, Brendan Gleeson, Adrien Brody, David Strathairn, Gerard Butler

Accuracy: This film is set during the war (largely between Serbs and Croats) that took place in the former Yugoslavia following the collapse of the Iron Curtain. It accurately (and gruesomely) depicts the ethnic cleansing and mass murders of civilians that took place.

Miscellaneous: Harrison's Flowers won several awards at the San Sebastian International Film Festival.
Review: The basic plot: A journalist who enjoys gardening (played by Elias Koteas) is reported dead while on assignment in Yugoslavia. His wife (Andie MacDowell), not realizing the brutality of the war, goes to Yugoslavia in hopes that her husband is still alive. With the help of other journalists (Adrien Brody, Brendan Gleeson, et al.), she finds her husband wounded but alive. The film is dedicated to the dozens of journalists who lost their lives covering this conflict.

"Harrison's Flower's" is told from the vantage point of foreigners uncovering the truth about what is happening in Yugoslavia for the first time. This is one of Hollywood and literature's best plot devices (having the main characters learn about things as the audience does), and it is done well here. The audience sees groups of soldiers on both sides--soldiers that are physically indistinguishable from one another--ruthlessly kill people based on a largely baseless sense of ethnic/racial identity. You can't watch this without constantly thinking that the "ethnic cleansing" killings are heartless and just plain stupid.

The acting is excellent, and the basic story is very good. I think the whole "flowers" theme could have been cut (and I suspect that a lot of it was, given the choppiness of this subplot), but otherwise, it's a good movie. The NYT review offers criticism of the film's coverage of war correspondents.
Harrison's Flowers Movie Review Publication Date for Citation Purposes: May 15, 2012