Hard Times: Lost on Long Island (2012)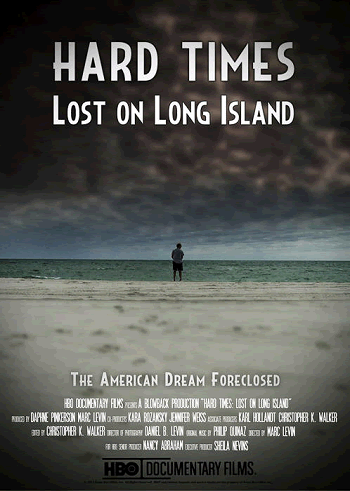 Length: 54 minutes

Age appropriateness: HBO's "Hard Times: Lost on Long Island" is officially rated "TV-PG" in the United States. It is safe for classroom viewing. Based on this documentary film's subject matter, it is most appropriate for students in grades seven and up.

Creators and stars: HBO Documentary Films, Alan Fromm, Anne Strauss, Chris Foley, Christopher K. Walker, Daphne Pinkerson, David Hartstein, Heather Hartstein, Howard Garthwaite, James d'Ambrosio, Jim Garthwaite, Karl Hollandt, Kevin Gleason, Marc Levin, Mel Strauss, Nancy Abraham, Naomi Wolf, Nicholas Puccio, Philip Quinaz, Ralph Morrison, Randolph Leidl, Richard Jacoby, Ryan Einis, Sheila Nevins, Steve Kubic, Winston Roberts

Accuracy: "Hard Times: Lost on Long Island" mixes interviews with the unemployed and accurate statistics. The information provided by this documentary film is reliable.

Review: HBO Documentary Films' "Hard Times: Lost on Long Island" examines the lives of Long Island residents who have lost their jobs, or seen their incomes drop substantially, as a result of what is termed the "Great Recession." The Great Recession is the period of "prolonged economic uncertainty" that began in 2008 with the housing crisis and the subsequent fall of America's leading financial institutions.

This documentary film does not look into the causes of the recession, nor does it go very deep into the complicated reasons why so many Americans are suffering from long-term unemployment. Instead, it offers a sympathetic look at what it is like for adults (mostly couples) and their families when hard times hit.

I recommend this film for viewing by mature high school students, particularly those of middle-class backgrounds whose families and friends may be, or have been, in similar circumstances. Its "you are not alone" approach to the issue of the "poverty in suburbia" epidemic will be significant to these teenagers. Additionally, this film offers many topics for discussion, such as how to end chronic unemployment in the United States, age discrimination, and the problem of being "overqualified" for a job. Click here to enlarge the fim poster.
Review and discussion questions: (1) How did Levittown develop as a suburban community on Long Island? (2) How have incomes changed in the 21st century? (3) How can a person be overqualified for a job? (4) How has the recession exacerbated the mortgage crisis in the United States? (5) How does financial insecurity affect people's mental and physical health? (6) Do you believe that unemployment benefits should be extended to help the long-term unemployed? (7) What might be done to end the "Great Recession" in the United States? (8) Locate the following on a map: (a) Long Island, (b) Levittown, (c) New York City.

Vocabulary terms and names: 99ers, bankruptcy, compensation, depression, financial crisis, food pantry, foreclosure, Great Recession, HR (human resources), laid off, Levittown, Long Island, mortgage crisis, networking, prolonged economic uncertainty, unemployment, Wall Street
"Hard Times: Lost on Long Island" (2012) Review Publication Date for Citation Purposes: July 21, 2012