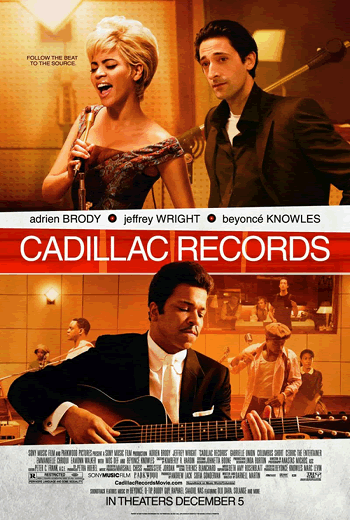 Length: 109 minutes (1 hour, 49 minutes)

Age appropriateness: Cadillac Records is rated R in the United States for brief nudity, sexual language, profanity, violence, and drug and alcohol use. It is inappropriate for classroom viewing, but most parents will not object to allowing their high school students to watch this film at home.

Creators and stars: Adrien Brody, Beyonce Knowles, Cedric the Entertainer, Columbus Short, Darnell Martin, Eamonn Walker, Emmanuelle Chriqui, Eric Bogosian, Gabrielle Union, Jeffrey Wright, Mos Def, Shiloh Fernandez

Accuracy: Cadillac Records is a somewhat fictionalized account of the history of Chess Records, which operated in Chicago, Illinois, under various names from the late 1940s to late 1960s. The film is rife with anachronisms and inaccuracies. Cars from the late 1950s are driven in the early 1950s, Chuck Berry's 1960s songs are recorded in the 1950s, Leonard Chess dies driving away from the recording studio rather than months later elsewhere, etc.

Review: Cadillac Records tells the story of Chess Records, founded by Leonard and Philip Chess, and features Chess musicians such as Chuck Berry, Etta James, Howlin' Wolf, Little Walter, Muddy Waters, and Willie Dixon. It is the first (and only, as of the publication of this review) screenplay and feature film directorial effort of Darnell Martin.

We recommend this film for "family movie night" because it features the rhythm and blues artists and songs that paved the way for the rise of rock 'n' roll. As stated at various points in the film, everyone knows, for example, who the Rolling Stones are, but very few know that this British band got its name from a Muddy Waters song, much less who Muddy Waters was. Cadillac Records offers an entertaining introduction to the popular "race music" of the fifties and sixties.

Unfortunately, despite a great soundtrack and generally good acting, Cadillac Records suffers from a weak screenplay and what I simply have to describe as lazy, sloppy filmmaking. Historical inaccuracies exist in nearly every scene. Not only are events and props placed years out of sync, but it is very difficult to tell when the story is jumping ahead a couple of years (screen titles such as "Chicago, 1955" would be ideal). The average teenager may not have the background information to notice this, but I imagine that most adults will find the warped timelines confusing.

Additionally, despite giving each major character plenty of screen time, the film manages to provide paltry information on each. Lackluster dialogue fills scenes that should be rich with the innumerable and fascinating stories and anecdotes that exist for these characters. Watching "Cadillac Records," I felt kind of like how I've felt over the years reading a number of student research papers--the kid clearly shows interest in the topic, and had a lot of fun playing around with the idea of the topic, but failed to read 99% of what the kid listed in the bibliography. It was as if Darnell Martin wrote the screenplay after skimming through a few articles on Wikipedia.

This film will educate your teenager on the music that helped create rock 'n' roll. It may also provide some information on what the recording industry was like in postwar America. It will perhaps help to put this musical history into perspective in terms of the civil rights movement. But Cadillac Records is not a technically accurate nor a particularly well-made film. Click here to enlarge the film poster.
Cadillac Records Movie Review Publication Date for Citation Purposes: June 4, 2012