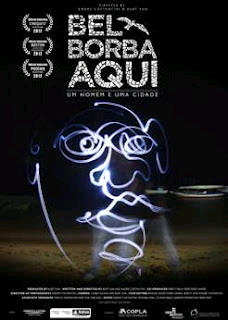 Release date:
2012
Reviewer:
Ms. Fox
Length:
95 minutes (1 hour, 35 minutes)
Age appropriateness:
The documentary film
Bel Borba Aqui
("Bel Borba Is Here") is not officially rated in the United States. Its content is safe for all ages, and this movie is fine for showing in classrooms. Although it might run a bit long for grade school kids, it should prove artistically inspiring for children as young as the primary grades.
Creators and stars:
Abramorama, Andre Costantini, Bel Borba, Bob Hart, Burt Sun, Csaba Sulyok, Daniel Burity, Darren Morze, Debra Winger, Eliano Braz, Mery Carla Monteiro Xavier, Michael Wall, Michelle Sun, Vanessa Reiser Shaw
Accuracy:
This documentary film features the Brazilian artist Bel Borba, known as the "people's Picasso," creating art in and around his hometown of Salvador de Bahia, Brazil. There is no voiceover narration apart from that provided by Bel Borba.
Review:
I had never heard of the Brazilian artist Bel Borba before seeing the movie
Bel Borba Aqui
. Fortunately, prior knowledge of Brazil's "people's Picasso" is not necessary to appreciate this documentary film. The movie follows Bel Borba around his native Salvador de Bahia as he transforms any and all available surfaces into works of art. For burgeoning artists, Bel Borba is truly an inspiration. Adept at numerous art forms, viewers get to watch as he turns his hometown into a living museum.
Bel Borba Aqui
is highly recommended for art teachers who are eager to get their students' creative juices flowing. But parents and teachers, be forewarned--watching this film could lead you to start creating your own massive art projects at home.
| | | | | | | | | | | |
| --- | --- | --- | --- | --- | --- | --- | --- | --- | --- | --- |
| | | | | | | | | | | |
| | Brazilian artist Bel Borba, subject of BEL BORBA AQUI, directed by Burt Sun and André Costantini. Courtesy of Abramorama. | | The work of Brazilian artist Bel Borba, subject of BEL BORBA AQUI, directed by Burt Sun and André Costantini. Courtesy of Abramorama. | | Brazilian artist Bel Borba, subject of BEL BORBA AQUI, directed by Burt Sun and André Costantini, with his work. Courtesy of Abramorama. | | The work of Brazilian artist Bel Borba, subject of BEL BORBA AQUI, directed by Burt Sun and André Costantini. Courtesy of Abramorama. | | Brazilian artist Bel Borba, subject of BEL BORBA AQUI, directed by Burt Sun and André Costantini, with his work. Courtesy of Abramorama. | |
| | | | | | | | | | | |
| --- | --- | --- | --- | --- | --- | --- | --- | --- | --- | --- |
| | | | | | | | | | | |
| | BEL BORBA AQUI co-director André Costantini. Courtesy of Abramorama. | | Residents of Brazilian artist Bel Borba's hometown, Salvador de Bahia, with his artwork, as seen in BEL BORBA AQUI, directed by Burt Sun and André Costantini, with his work. Courtesy of Abramorama. | | BEL BORBA AQUI co-director Burt Sun. Courtesy of Abramorama. | | | | | |
Bel Borba Aqui Movie Review Publication Date for Citation Purposes: September 6, 2012