The Five-Year Engagement (2012)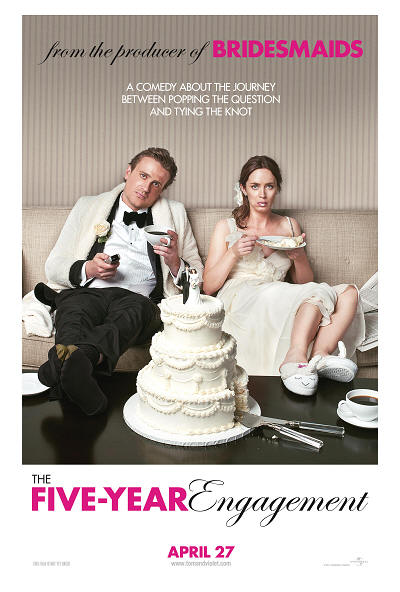 Review: The Five-Year Engagement is a funny romantic comedy illustrating the ups and the downs in the relationship of Tom and Violet (Jason Segel and Emily Blunt). They are a fairly normal couple for whom things should, theoretically, go smoothly, but for whom things don't go smoothly. In contrast, the film shows the dubious beginning of, yet quickly and not particularly problematically successful, marriage of Violet's sister to Tom's best friend, played by Alison Brie (TV's "Community") and Chris Pratt (TV's "Parks and Recreation").

As he did in Forgetting Sarah Marshall, Segel has no shame in humiliating himself on screen in order to get a laugh from the audience. Luckily, though, the audience sees only Jason Segel's rear view (the only nude bits in the film).

Although this film features casual sex and infidelity, these plot elements are used to illustrate the overall theme that fulfilling, long-term, monogamous commitments are worth pursuing and fighting for. The couple makes mistakes, apologies for these mistakes, forgives one another, and goes off to live (presumably) fairly happily ever after. The general message of The Five-Year Engagement is, therefore, a positive one.

The only complaint I have about The Five-Year Engagement is that it appears in some respects to be a five-hour movie cut down to a little over two hours. Some of the scenes are so brief that I got the feeling they were edited down to leave only enough time for the joke to play out, then swoosh...along comes the next quick scene with its joke, then swoosh...you get the idea. Someone should buy Jason Segel a notebook where he can jot down each funny scene or idea that comes into his head, so he won't feel compelled to throw everything he thinks of into the movie he's making at the moment. But is complaining that too much funniness is crammed into one film really a complaint?
| | | | | | | | | | | |
| --- | --- | --- | --- | --- | --- | --- | --- | --- | --- | --- |
| | | | | | | | | | | |
| | Alison Brie (of "Community" and "Mad Men") | | Emily Blunt and Jason Segel | | Jason Segel and Chris Parnell (of "Saturday Night Live") | | Jason Segel | | Rhys Ifans (of Pirate Radio and the Harry Potter films) | |
| | | | | | | | | | | |
| --- | --- | --- | --- | --- | --- | --- | --- | --- | --- | --- |
| | | | | | | | | | | |
| | Emily Blunt | | Chris Pratt (of "Parks and Recreation") | | Chris Pratt (of "Parks and Recreation") | | Mindy Kaling (of "The Mindy Project") | | Randall Park | |
Length: 124 minutes (2 hours, 4 minutes)

Age Appropriateness Rating: "The Five-Year Engagement" is officially rated "R" in the United States. There is some swearing, as well as sexual overtones, drunkenness, and several views of Jason Segel's rear end. It is inappropriate for classroom viewing. Most parents of mature high school students should not have a problem letting their teens watch this movie.

Creators and Stars: Alison Brie, Brian Posehn, Chris Parnell, Chris Pratt, Clement von Franckenstein, Dakota Johnson, David Paymer, Eric Scott Cooper, Jacki Weaver, Jane Carr, Jason Segel, Jim Piddock, Judd Apatow, Kevin Hart, Lauren Weedman, Michael Ensign, Mimi Kennedy, Mindy Kaling, Molly Shannon, Nicholas Stoller, Randall Park, Rhys Ifans

Miscellaneous: Film still images photo credit: Glen Wilson. Copyright © 2012 Universal Studios. All rights reserved. Click here to enlarge the film poster.
Movie Review Publication Date for Citation Purposes: April 27, 2012