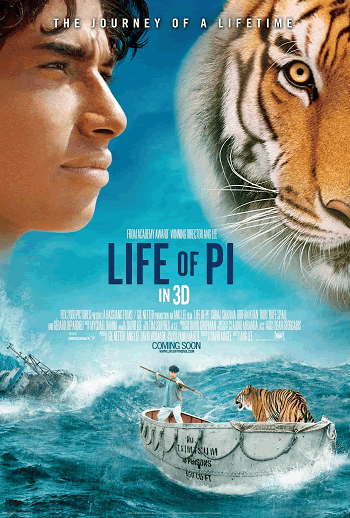 Length: 127 minutes (2 hours, 7 minutes)

Age appropriateness: Life of Pi is officially rated PG in the United States. It's safe viewing for all ages, but children under the age of ten may have difficulty dealing with the theme of loss.

Review: Life of Pi is the story of how a young man survives devastating loss through the exercise of his imagination and his unique religious views. Without wanting to spoil it for you, the ending is bittersweet and moving. The whole family should enjoy this film.

From an educational perspective, the concept of how one deals with loss is useful for health and psychology classes. Culturally, Life of Pi offers insight into life in India, including the prominent religions of the country (Hinduism, Islam, Christianity).

Creators and stars: Adil Hussain, Andrea Di Stefano, Ang Lee, Ayan Khan, Ayush Tandon, David Magee, Gautam Belur, Gerard Depardieu, Irrfan Khan, James Saito, Jun Naito, Rafe Spall, Suraj Sharma, Tabu, Yann Martel

Source: Ang Lee's Life of Pi is based on the novel by Yann Martel.

Click here to enlarge the film poster.
Spoiler alert: The story centers around Pi, a young man growing up in India. His family operates a zoo. When Pi is a teenager, the family decides to relocate to Canada, bringing their animals along to sell. Sailing with their animals on a freighter, Pi is shipwrecked. On his lifeboat, seemingly, are several of the family's animals. Pi's memories of life aboard the lifeboat are of these animals' interactions with one another and with himself.
Life of Pi Movie Review Publication Date for Citation Purposes: December 1, 2012