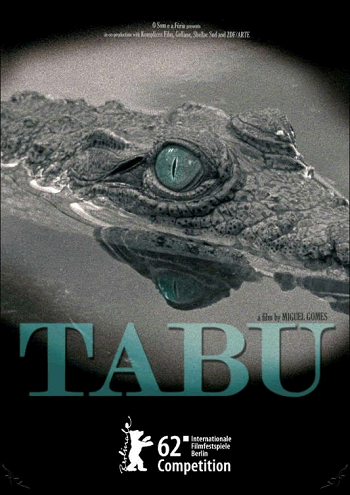 Length: 110 minutes (1 hour, 50 minutes)

Age appropriateness: Tabu has not been officially rated in the United States. It features nudity (sex scenes) and a murder. It is inappropriate for classroom viewing. The subject matter restricts it to outside-of-school viewing by mature teens with parental permission.

Review: Tabu is set into two distinct, named sections--part one is "A Lost Paradise" and part two is "Paradise." "A Lost Paradise" is set in modern Lisbon, and focuses on Pilar, a woman who is kindhearted but clueless, and her elderly neighbor, Aurora. Aurora is estranged from her daughter, lives with a black maid named Santa, and has spent all of her money gambling. When Aurora is dying, Pilar is called upon to locate a man named Gian Luca Ventura. Gian's narration begins "Paradise," which is the story of the adulterous affair Gian and Aurora had in Africa during the closing days of imperialism.

"A Lost Paradise" sets up viewers to be intrigued by Aurora, and to want to know her story--how she came to be the way she is. "Paradise" gives viewers the answers. Yet the older Aurora (played by the talented Laura Soveral) is a much more interesting person than the younger Aurora. At the same time, however, "A Lost Paradise" drags on needlessly in parts. Watching "Paradise," I quickly lost interest in Aurora as a character.

The second half of Tabu is set in Africa at the close of the era of imperialism. But apart from a few quick blurbs at the end of the film about the black population revolting from their colonial rulers, the second half of the movie could have been set anywhere. There are some attempts to show a recurring theme of African witchcraft, but these left me with a bad taste in my mouth. I couldn't tell if the director was trying to recreate the racist stereotypes that were prevalent at the time (early 1960s), or if these stereotypes are still common in modern Portugal. Given the styling of the film, the director easily could have been trying to recreate the portrayal of native Africans in films from the first half of the twentieth century--voiceless caricatures who serve silently until they are called upon by the script to frighten the white protagonists. Unfortunately, the director focuses so much on the boring love story between Aurora and Gian that the native African characters never get enough of a role in the plot.

The film also prominently features a Portuguese version of the Ronettes' hit song "Be My Baby" that seems out of place at times.

If this were all that Tabu had to offer, I would stop my review with a thumbs-down sign. However, I must point out that the cinematography in Tabu is incredibly interesting. The styling of this film raises my review to the level of "meh." As stated previously, the scenes of "A Lost Paradise" appear like they could have been filmed in the early 1960s. If I had been shown "A Lost Paradise" on its own and been told that it was a Portuguese movie from the 1960s, I wouldn't have questioned it. There are also a couple of scenes where the use of lighting is reminiscent of the flicker of an old silent movie (Christmas lights in a "A Lost Paradise" hospital scene, and an oil or kerosene lamp in a "Paradise" scene). These factors make Tabu a movie for people who are really into moviemaking, and means that budding filmmakers might find it of interest. I imagine that it will do well at film festivals...but don't expect it to play at your local multiplex.
Creators and stars: Ana Moreira, Carloto Cotta, Henrique Espirito Santo, Isabel Munoz Cardoso, Ivo Muller, Laura Soveral, Manuel Mesquita, Mariana Ricardo, Miguel Gomes, Teresa Madruga

Accuracy: Tabu is a fictional story set partly in modern-day Lisbon, Portugal, and partly in colonial Portuguese Africa in the very early 1960s. The film's accuracy comes from the style of the film. Scenes shot in Africa look like they could have been filmed in the 1960s. I noticed no glaring historical anachronisms. Click here to enlarge the film poster.
Tabu Movie Review Publication Date for Citation Purposes: June 13, 2012