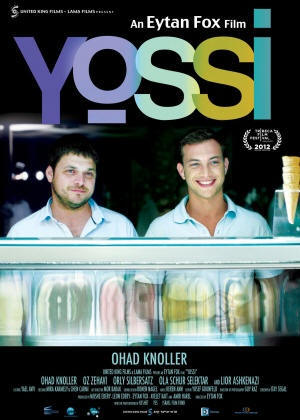 Length: 84 minutes (1 hour, 24 minutes)

Age appropriateness: Yossi is officially unrated in the United States. This film would most likely receive a PG-13 or R rating for drug and alcohol use, sexual references, and full-frontal male nudity. Many liberal-minded parents will not object to their older teens watching this movie at home, but the film's only educative value is the opportunity it gives to hear spoken Hebrew (which can be hard to find outside of Israel).



Creators and stars: Amir Harel, Ashi Milo, Ayelet Kait, Eytan Fox, Guy Raz, Itay Segal, Keren Ann, Leon Edry, Lior Ashkenazi, Mira Karmely Chen Carmi, Mor Barak, Moshe Edry, Nili Levi, Ohad Knoller, Ola Schur Slektar, Orly Silbersatz, Oz Zehavi, Ronen Nagel, Yael Aviv, Yosef Grunfeld

Background: Yossi is a follow-up to Eytan Fox's (2002) Yossi and Jagger, the story of Yossi's homosexual relationship during his years in the Israeli army. This movie is in Hebrew with English subtitles.



Review: For our more conservative readers, let me state straightaway that this Hebrew-language film is about loneliness and the search for love on the part of a gay Israeli doctor. That being said, I truly enjoyed this film.

A follow-up to 2002's Yossi and Jagger, this film finds Yossi, now out of the Israeli Defense Forces, working as a closeted gay doctor. The loneliness of his existence has gotten to him, and he tries to discreetly find someone, with limited success at first.



For me, the true beauty of this film is that it isn't necessarily a film about a gay man trying to find the right person, but about anyone who's lost a loved one and trying to move on. Perhaps this is a sign of the times, that homosexual characters in cinema are becoming so commonplace that "being gay" is no longer the plot; instead, we are moving into a world (at last) where characters, gay or straight, are simply struggling with the same issues as everyone else. For example, there is a scene in the film that will make anyone who's ever tried online dating both giggle and cringe. Intrigued by a man's profile, Yossi begins chatting with him. When the man asks Yossi for a photo, Yossi sends a flattering picture of himself. But when Yossi meets the man in person, the man is painfully blunt in pointing out that the photo was misleading, as it was taken of Yossi about ten years and twenty pounds ago.

Ohad Knoller gives an amazing, bittersweet, yet not sentimental, performance as Yossi. Overall, Yossi has some of the best understated acting I've seen on the big screen in a while. It's worth seeing.
| | | | | | | | | | | |
| --- | --- | --- | --- | --- | --- | --- | --- | --- | --- | --- |
| | | | | | | | | | | |
| | Eytan Fox, Director | | Ohad Knoller (Yossi) and Oz Zehavi (Tom) | | Ohad Knoller as Yossi | | Oz Zehavi as Tom | | Car Scene from Yossi | |
Yossi Movie Review Publication Date for Citation Purposes: January 9, 2013