Crude: The Real Price of Oil (2009)
Reviewer:
Ms. Stelzer
Length:
104 minutes (1 hour, 44 minutes)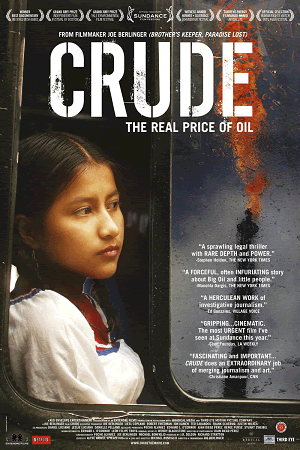 Age appropriateness:
Crude: The Real Price of Oil
should be acceptable for high school students and home viewing. It frequently has subtitles, so students would have to be comfortable reading at a fast pace. There are a few swear words, but nothing too noticeable. The subject matter is sometimes mature though, particularly the interviews with those who have cancer or whose families have died. There are a few graphic images of people with illnesses and some shots of dead or dying animals.
Creators and stars:
Adolfo Callejas, Diego Larrea, Joe Berlinger, J.R. DeLeon, Juan Diego Perez, Michael Bonfiglio, Pablo Fajardo, Pocho Alvarez, Rafael Correa, Ricardo Reis Veiga, Richard Stratton, Sara McMillen, Steve Donziger, Sting, Trudie Styler, Wendy Blackstone
Accuracy:
Crude: The Real Price of Oil
does a very good job of showing both sides of the argument, but it is clearly sided with the plaintiff. Although this is true, it isn't inaccurate, and it shows only factual information about the situation.
Click
here
to enlarge the official film poster.
Review:
Crude: The Real Price of Oil
(2009) is a documentary about a lawsuit between Chevron (previously Texaco) and 30,000 Ecuadoreans over the harmful effects that Chevron's oil drilling had on their environment. Crude primarily follows the plaintiffs as they listen to the stories of those who have been harmed, but there are also many interviews with representatives from Chevron. The film focuses more on depth than it does on covering many subjects, but it does this well and has valuable information on environmental and legal issues.
Vocabulary terms:
Ecuador
, Amazon, indigenous, plaintiff, defendant, contamination, ethical, activism, litigate
Crude: The Real Price of Oil Movie Review Publication Date for Citation Purposes: June 11, 2012