The Other Boleyn Girl (2008)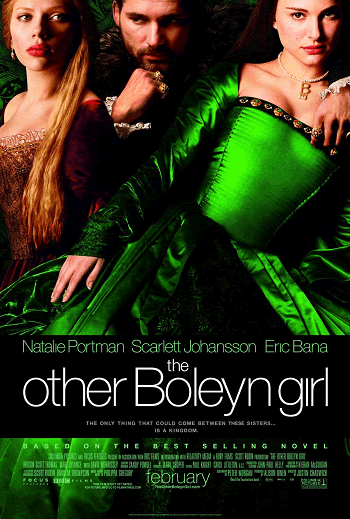 Length: 115 minutes (1 hour, 55 minutes)

Age appropriateness: The Other Boleyn Girl is rated PG-13 in the United States. The sexually-charged content and overall historical inaccuracy of this film make it unsuitable for classroom viewing.

Creators and stars: Sony Pictures, Ana Torrent, Andrew Garfield, Benedict Cumberbatch, Constance Stride, David Morrissey, Eddie Redmayne, Eric Bana, Jim Sturgess, Juno Temple, Justin Chadwick, Kristin Scott Thomas, Mark Rylance, Michael Smiley, Natalie Portman, Oliver Coleman, Peter Morgan, Philippa Gregory, Scarlett Johansson.

Accuracy: The Other Boleyn Girl is much more fiction than fact. It is based on Philippa Gregory's imaginative 2001 novel of the same name, which tells an entertaining but historically inaccurate story of Henry VIII of England's relationships with Anne and Mary Boleyn. How much fiction? Most of the events shown in the movie simply never happened. For example, Henry VIII most likely first met Mary Boleyn when she was a (most likely promiscuous) lady-in-waiting at the French court. Anne Boleyn was charged with incest, but the truth of this charge was very unlikely. Mary Boleyn was not Henry's trusted confidante; he found her so unsuitable that he had guardianship of Mary's son (and possibly Henry's son), Henry Carey, given to Anne.

Review: This film features excellent performances by the entire cast, including future Oscar-winner Natalie Portman. The sets and costumes are amazing, and provide a lot of insight into the Tudor period in England. Although the facts are dodgy to say the least, a viewer will leave this film with a much greater knowledge of the sorts of politics played in courts of this time. We recommend this film for mature high school students who have already studied the English Protestant Reformation. The Other Boleyn Girl provides an excellent and entertaining look at how literature and film incorrectly present history. Click here to enlarge the film poster. Click here to purchase the DVD.
| | | | | | | | | | | |
| --- | --- | --- | --- | --- | --- | --- | --- | --- | --- | --- |
| | | | | | | | | | | |
| | Eddie Redmayne as William Stafford | | Scarlett Johansson as Mary Boleyn | | Benedict Cumberbatch as William Carey | | Natalie Portman as Anne Boleyn | | Eric Bana as Henry VIII | |
The Other Boleyn Girl Movie Review Publication Date for Citation Purposes: May 20, 2012