Peace Treaty of Westphalia (1648) Map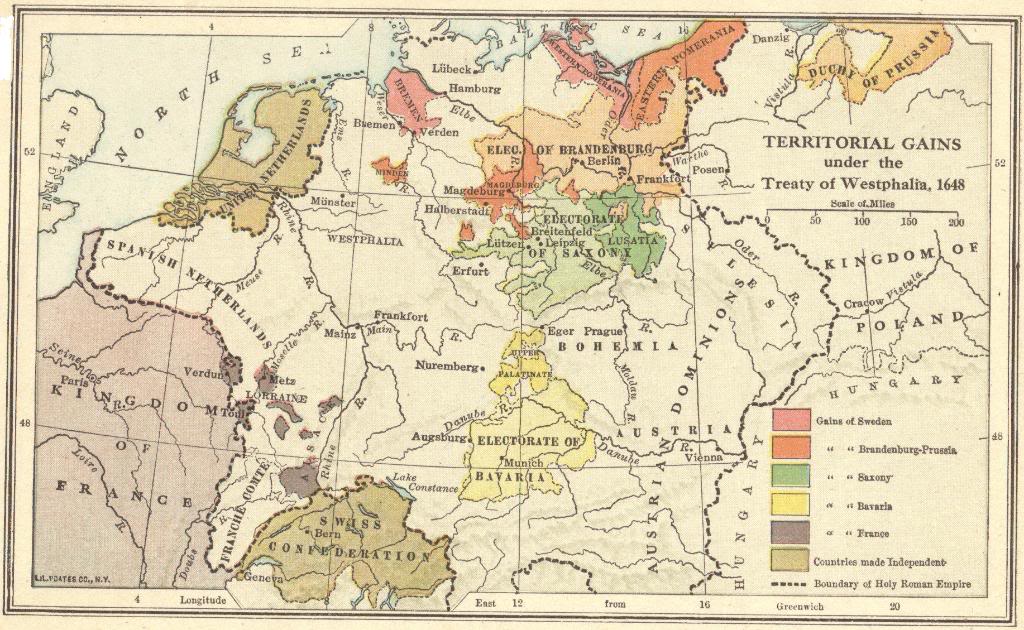 Shown here is a map of the territorial gains under the Peace Treaties of Westphalia (finalized in 1648). It shows the gains of Sweden, Brandenburg-Prussia, Saxony, Bavaria, and France, including the countries made independent, and the boundary of the Holy Roman Empire. These treaties are credited with establishing the foundation of the modern state system and with articulating territorial sovereignty as a concept.

This peace treaty (really, two concurrent treaties were signed, commonly referred to in combination as the Peace Treaty of Westphalia) brought an end to the Eighty Years' War between the Spanish and the Dutch, as well as an end to the German phase of the Thirty Years' War. Peace negotiations began in 1644 in the towns of Münster and Osnabrück, both located in Westphalia (a region in what is today northwestern Germany). The Spanish and Dutch portion of the treaty was signed on January 30, 1648. The treaty of October 24, 1648, included France, Sweden, the Holy Roman emperor Ferdinand III, and the other German princes. The European powers of England, Russia, Poland, and the Ottoman Empire were not represented at the two assemblies. Click here to enlarge.