Project Twenty: The Great War (1956)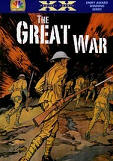 Length:
52 minutes
Age appropriateness:
"Project Twenty: The Great War" is safe for any students in grades five and up.
Creators and stars:
NBC News Productions, Shanachie Entertainment Corporation, Alexander Scourby, Daniel Jones, Donald Hyatt, Henry Salomon, Isaac Kleinerman, Judith Greene, Mel Stuart, Richard Hanser, Robert Russell Bennett, Silvio d'Alisera
Accuracy:
The information presented by the narrator, Alexander Scourby, is accurate. However, he seems to be addressing an adult audience that is already familiar with the war. The footage is a mixture of archival film and reenactments, with little way to tell which is which.
Review:
I do not recommend using this documentary film in a classroom. There are many much better documentaries on the First World War available. Watching this film in class is a waste of time.
Initially, this film seems like a great choice for teaching kids about World War I. The narrator has an interesting, commanding voice. The soundtrack will definitely keep kids awake. The footage is lively and entertaining.
However, "The Great War" is a very biased and superficial treatment of this event. It is everything you would expect from an American documentary made in the 1950s. I don't think I heard the word "trench" used even once, despite there being numerous trenches featured in the footage. No mention is made of the Russians pulling out of the war under Vladimir Lenin. In the end, the United States is presented as stepping in and almost single-handedly winning the conflict. Students will walk away from this documentary knowing very little about the war, and understanding even less.
Vocabulary terms and names: AEF (American Expeditionary Force), Archduke Franz Ferdinand, dog fight, draft, Emperor Franz Joseph, freedom of the seas, General John J. Pershing, Hindenburg Line, intimidation, Kaiser Wilhelm II of Germany, King Albert of Belgium, King George V of the United Kingdom, Liberty Bonds, Marshal Foch, Meuse-Argonne Offensive, neutral, no man's land, peace without victory, President Woodrow Wilson of the United States, Prime Minister Lloyd George of the United Kingdom, propaganda, Sarajevo, Serbia, Theodore Roosevelt, Tsar Nicholas II of Russia, unrestricted submarine warfare

Review and discussion questions: (1) How were Germany's Kaiser Wilhelm II and England's George V related? (2) What happened on June 28, 1914? (3) The British declared war after the Germans invaded what neutral country? (4) Describe what happened to the Lusitania. (5) Name three American celebrities who supported the war effort. (6) What happened on March 21, 1918? (7) Approximately how many soldiers died (total) in World War I? (8) What happened on November 11, 1918? (9) How many Americans died in the Great War? (10) Was the First World War worth its costs? Explain your answer.
Project XX: The Great War Movie Review Publication Date for Citation Purposes: June 29, 2012