Ida (2013) Film Review and Guide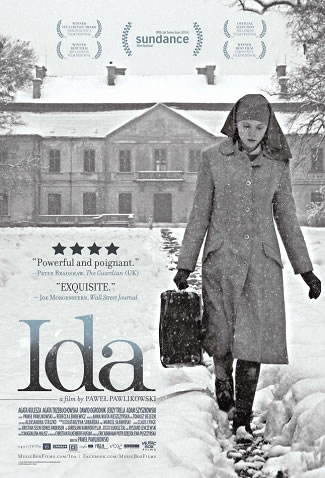 Anna, a young novitiate nun in 1960s Poland, is on the verge of taking her vows when she discovers a dark family secret dating back to the years of the Nazi occupation.

This film is in Polish with English subtitles. Running time is 80 minutes (1 hour, 20 minutes).

Click here to enlarge the official film poster.

Creators and Stars: Aleksandra Staszko, Agata Kulesza, Agata Trzebuchowska, Anna Niuta Kieszczyńska, Christian Falkenberg Husum, Claus Lynge, Eric Abraham, Ewa Puszczyńska, Dawid Ogrodnik, Halina Skoczyńska, Jan Wojciech Paradowski, Jarosław Kamiński, Jerzy Trela, Joanna Kulig, Katarzyna Sobańska, Kristian Selin Eidnes Andersen, Krzysztof Brzeziński, Łukasz Żal, Magdalena Malisz, Marcel Sławiński, Paweł Pawlikowski, Piotr Dzięcioł, Rebecca Lenkiewicz, Ryszard Lenczewski, Tomasz Nowak, Tomasz Sielecki.

Statement of Director Paweł Pawlikowski: "IDA is a film about identity, family, faith, guilt, socialism and music. I wanted to make a film about History, which wouldn't feel like a historical film; a film which is moral, but has no lessons to offer; I wanted to tell a story in which 'everyone has their reasons'; a story closer to poetry than plot. Most of all, I wanted to steer clear of the usual rhetoric of the Polish cinema. The Poland in IDA is shown by an 'outsider' with no axe to grind, filtered through personal memory and emotion, the sounds and images of childhood..."

Click here to purchase the DVD.