| | Welcome to Student Handouts |
| --- | --- |
Free Educational Materials for K-12 Teachers and Students of All Subjects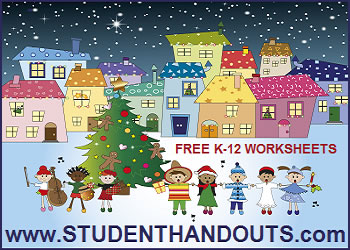 Check out some of our latest releases:
Compass Rose Handwriting and Coloring Worksheet - Here is a fun worksheet to help introduce primary school students to the compass rose. Students are asked to read, trace, and write the term. Once the students are familiar with the spelling of compass rose, they are free to color the image.
Pease Porridge Hot - Students are asked to read, trace, and write this classic English nursery rhyme. Once completed, students may color the little picture.
Daily Bullet Journal Planner for 2017 - Do you need more space for each day? Do some "to-do" items not fit neatly into time slots? These free printable bullet planner sheets offer both standard time slots and bullet points. There is also a monthly calendar on the bottom left of each page, with the current date highlighted. Standard American holidays are in the top right.
My Thoughts on Clowns Writing Prompt for Primary Students - Send in the clowns! Here is a fun writing prompt worksheet entitled "My Thoughts on Clowns" which features dashed primary lines.
Facebook Memes: True or False Worksheet - This fun worksheet has students analyze a meme from Facebook or elsewhere. Students are asked to investigate the allegations or claims presented by the meme, and to evaluate the meme for its honesty. Unlike memes, students must cite their sources.
For Whom the Bellwork Tolls - This versatile English grammar worksheet works for grades 4-12, teaching the difference between who and whom.
Click for some of our most popular web pages:
Attendance Forms

Everything from printable student sign-in sheets to a DIY attendance book.

Substitute Teaching Kit

Absent for the day? Covering for an absent teacher? We have everything you need to have a great day with plenty of effective learning.

High School World History PowerPoints

We have lots of PowerPoint presentations, all free, on most topics studied in high school World History classes.
EDUCATIONAL MATERIALS THAT MEET AND EXCEED THE
COMMON CORE
STATE STANDARDS
We are dedicated to providing quality, curated, unique educational materials for little or no cost as part of our mission to democratize education in the United States and around the world. We firmly believe that, given the tools, every student can achieve academic success and reach her or his full potential.
Created by Experienced Educators for Use by K-12 Classroom Teachers and Homeschooling Parents