My Week with Marilyn (2011)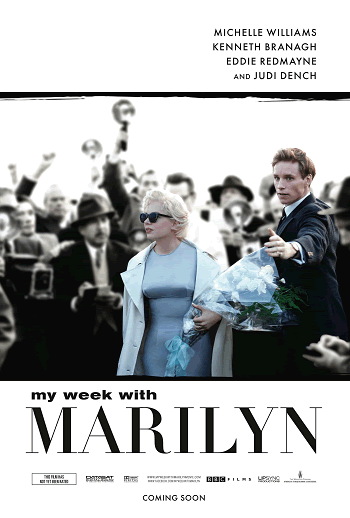 Length: 99 minutes (1 hour, 39 minutes)

Age Appropriateness Rating: Rated R. This film is fine for teenagers in grades 9-12 with parental permission. There is some brief nudity, but no actual sex. I'm actually surprised this received an R rating.

Creators and Stars: Simon Curtis, Colin Clark, Michelle Williams, Eddie Redmayne, Kenneth Branagh, Julia Ormond, Emma Watson, Toby Jones, Jim Carter, Dougray Scott, Judi Dench

Historical Accuracy: This film is set in London, England, during the filming of "The Prince and the Showgirl." The script is based on Colin Clark's memoir The Prince, the Showgirl, and Me: Six Months on the Set With Marilyn and Olivier.

Possible Discussion Questions: 1. How do method and character/classical acting differ? 2. In what ways was Marilyn Monroe trapped by her fame? 3. Does working on a movie set appear less or more interesting than you believed before watching this film? 4. What modern actor(s) or actress(es) have suffered mentally and emotionally as a result of becoming famous?

Review: This movie tells the rather charming story of a recent university graduate (Colin Clark, played by Eddie Redmayne) who networks himself into a minor position on the film production The Prince and the Showgirl starring Sir Laurence Olivier (Kenneth Branagh) and Marilyn Monroe (Michelle Williams). Monroe is having trouble in her marriage to playwright Arthur Miller (Dougray Scott). When Miller returns to the U.S., Monroe forms a special bond with Clark.

Michelle Williams was nominated for an Oscar playing Marilyn Monroe, perfectly capturing the screen icon's personality and mannerisms.

This film will make great viewing for any student interested in acting as a profession. The entire set-up of a film production is portrayed, from the wardrobe department, to the actors, to the crew (including a humorous scene regarding unionized film labor). There are also many references to method acting vs. character (or classical) acting that drama students will find informative.

Another major youthful target audience for this film are the teenagers obsessed with the idea of celebrity. Marilyn Monroe provides an ideal historical example of a gorgeous movie star, adored by millions, who faced at least as many problems as the rest of us, if not many more. The tragic life of Monroe offers firm proof that being "rich and famous" does not guarantee happiness. This is a lesson that many of today's fame-obsessed teenagers could benefit from learning. Click here to enlarge the film poster.