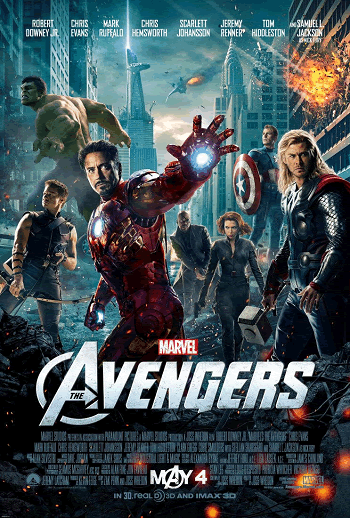 Length: 142 minutes (2 hours, 22 minutes)

Review: Marvel's The Avengers is entertaining from start to finish. The plot involves Loki's (brother of Thor) theft of the Tesseract, an energy source that will help him to rule the world. The Avengers, a group of superheroes consisting of Iron Man (Robert Downey Jr.), the Black Widow (Scarlett Johansson), Thor (Chris Hemsworth), Captain America (Chris Evans), the Incredible Hulk (Mark Ruffalo), and Hawkeye (Jeremy Renner), come together under the leadership of Nick Fury (Samuel L. Jackson) to battle Loki. The special effects are spot on, and the use of 3-D is absolutely terrific (well worth the headache I end up with after wearing 3-D glasses). All of the actors put in good performances despite the small amount of screen time that could be afforded to each individual superhero. Those who stood out most strongly were Tom Hiddleston and Robert Downey Jr.

You can't go wrong taking the kids to see The Avengers, and you should enjoy it as much as they will. Stay tuned to the closing credits for a sneak peek at the topic of the next movie in the Marvel comic book movie franchise. Check out the pictures below for ideas on the superhero costume(s) you might be putting together this Halloween.

Age Appropriateness Rating: Marvel's The Avengers is rated PG-13 in the United States. There are plenty of explosions and fights, as well as blood (a minor character dies), but no actual gore. Robert Downey Jr.'s character is seen drinking an alcoholic beverage in his home, and makes a mild drug reference (if you catch it at all). We judge this film as safe for pretty much anyone to watch; if your child has seen Iron Man, Captain America, or Thor, this should be fine (my eleven-year-old nephew will be in the theater on opening day). The lack of educative value means that it has no place in a classroom setting, but should be perfectly fine for in-class viewing as part of a reward day.

Creators and Stars: Marvel Studios, Disney, Alan Fine, Alicia Sixtos, Ashley Johnson, Chris Evans, Chris Hemsworth, Clark Gregg, Cobie Smulders, Enver Gjokaj, Gwyneth Paltrow, Harry Dean Stanton, Jack Kirby, Jeremy Latcham, Jeremy Renner, Jon Favreau, Josh Cowdery, Joss Whedon, Kevin Feige, Lou Ferrigno, Louis D'Esposito, Mark Ruffalo, Patricia Whitcher, Paul Bettany, Robert Downey Jr., Samuel L. Jackson, Scarlett Johansson, Stan Lee, Stellan Skarsgard, Tom Hiddleston, Victoria Alonso, Zak Penn
Possible Post-Film Discussion Questions: Who is your favorite superhero of the Avengers, and why? Do you think that the popularity of 3-D changes the way that movies are filmed? In the past decade, three actors have portrayed the Hulk in films--Eric Bana, Edward Norton, and Mark Ruffalo; in your opinion, who made the best Hulk? Design your own movie poster for The Avengers. Click here to enlarge the official film poster.
Marvel's The Avengers Movie Review Publication Date for Citation Purposes: May 3, 2012