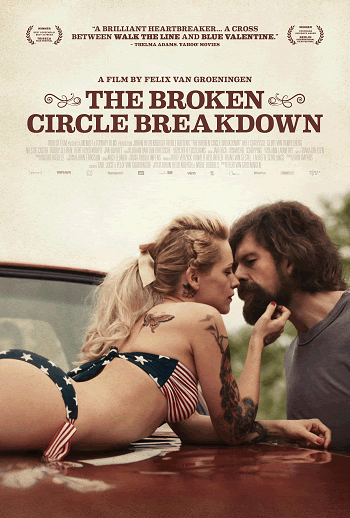 Release date: 2012 (Belgium); 2013 (U.S.A.)

Length: 110 minutes (1 hour, 50 minutes)

Language: Dialogue in Flemish and songs in English.

Creators and stars: Ann Lauwerys, Bert Huysentruyt, Bjorn Eriksson, Carl Joos, Diana Dreesen, Dirk Impens, Felix Van Groeningen, Geert Van Rampelberg, Jan Bijvoet, Jan Deca, Johan Heldenbergh, Johan Van den Driessche, Kurt Rigolle, Michel Schopping, Mieke Dobbels, Nell Cattrysse, Nico Leunen, Nils De Caster, Robby Cleiren, Ruben Impens, Sofie Tusschans, Topkapi Films, Tribeca Film, Veerle Baetens

Awards:


Panorama Audience Award – 2013 Berlin International Film Festival
Best Screenplay for a narrative feature – 2013 Tribeca Film Festival
Best Actress in a narrative feature (Veerle Baetens) – 2013 Tribeca Film Festival
9 Ensor Awards of Flemish Cinema including for Best Film, Best Director, Best Actress, Best Music

Official Summary: Elise (Veerle Baetens) and Didier (Johan Heldenbergh) fall in love at first sight. She has her own tattoo shop and he plays the banjo in a bluegrass band. They bond over their shared enthusiasm for American music and culture, and dive headfirst into a sweeping romance that plays out on and off stage — but when an unexpected tragedy hits their new family, everything they know and love is tested. An intensely moving portrait of a relationship from beginning to end, propelled by a soundtrack of foot-stomping bluegrass, The Broken Circle Breakdown is a romantic melodrama of the highest order.

Age appropriateness: This film is not officially rated in the U.S., but would most likely rank as PG-13 or R based on depictions of sexual activities and some nudity. "The Broken Circle Breakdown" is deemed inappropriate for classroom viewing, but most parents wouldn't object to their high schoolers/teenagers watching this film.

Review: The Broken Circle Breakdown is moving and thought-provoking. Given the sexual content of the film, it's inappropriate for classroom viewing. But parents who do not object to some degree of sexual content may love introducing their teens to blue grass music through this film. Click here to enlarge the film poster.
The Broken Circle Breakdown (2013) Movie Review Publication Date for Citation Purposes: October 22, 2013