The Odd Life of Timothy Green (2012)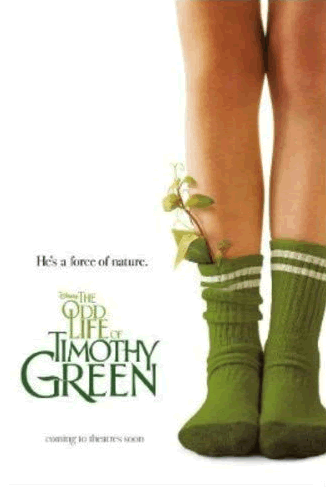 Length: 100 minutes (1 hour, 40 minutes)

Age appropriateness: The Odd Life of Timothy Green is officially rated "PG" in the United States. This movie is safe for all ages, and can be shown in a classroom.

Summary: An otherwise happily married couple hopes and tries to have a child, with zero results. He works in the local pencil factory, while she works as a tour guide at the local history museum. In an event designed to bury their hopes for having a baby, the couple jots down the ideal traits of such a baby, then buries the box containing these slips of paper in their garden. A magical rain falls overnight, and voila--their ideal child arrives. His name is Timothy, and his unique personality and antics achieve everything imaginable--from bringing his father and grandfather closer, to rescuing the pencil factory from closure.

Creators and stars: Ahmet Zappa, C.J. Adams, Common, David Morse, Dianne Wiest, Jennifer Garner, Jim Whitaker, Joel Edgerton, John Cameron, Lin-Manuel Miranda, Lois Smith, M. Emmet Walsh, Mara Jacobs, Odeya Rush, Peter Hedges, Ron Livingston, Rosemarie DeWitt, Scott Sanders

Review: The Odd Life of Timothy Green is absolutely delightful and utterly charming. I laughed and cried. It's the sort of movie you can enjoy watching with anyone and everyone from a child, to a friend, to an in-law. The young C.J. Adams, who plays Timothy Green, does a terrific job, alongside Jennifer Garner and Joel Edgerton as his on-screen parents. The real scene-stealer, though, is Dianne Wiest as the matriarch of the town's pencil factory family.
The Odd Life of Timothy Green Movie Review Publication Date for Citation Purposes: August 16, 2012