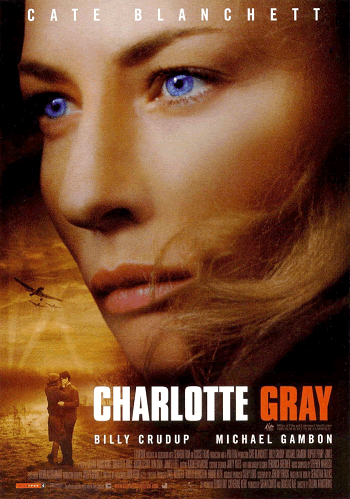 Length: 121 minutes (2 hours, 1 minute)

Age appropriateness: Charlotte Gray is officially rated "PG-13" in the United States. The content of this film might be a bit beyond junior high school students, so we recommend this movie for high school on up.

Creators and stars: Warner Brothers Pictures, Abigail Cruttenden, Anton Lesser, Billy Crudup, Cate Blanchett, Catherine Kerr, Cathy Lord, Charlie Condou, Charlotte McDougall, Dion Beebe, Douglas Rae, Elinor Day, Gillian Armstrong, Hanno Huth, Helen McCrory, Hugh Ross, Jack Shepherd, James Fleet, Janty Yates, Jeremy Brock, John Pierce Jones, Joseph Bennett, Lewis Crutch, Matthew Plato, Michael Fitzgerald, Michael Gambon, Nicholas Beauman, Nicholas Farrell, Paul Webster, Robert Bernstein, Robert Hands, Ron Cook, Rupert Penry Jones, Sarah Curtis, Sebastian Faulks, Stephen Warbeck

Accuracy: This fictional story, set during World War II, is accurate as far as the war is concerned. Those who have read the original novel by Sebastian Faulks will notice significant differences between the book and the screenplay.

Review: Charlotte Gray is based on the Sebastian Faulks novel of the same name.

This film offers rare insight into what life was like for French citizens living in France during World War II. The story is told through the eyes of Charlotte Gray, a young Scottish woman operating as a British spy. This film avoids overdramatizing events, yet still manages to be riveting. Numerous events are portrayed--the Nazi occupation, the exploits of both partisans and collaborators, the rounding up of those of Jewish descent, and more. Additionally, the role of brave women in the war effort is shown. Click here to enlarge the film poster. Click here to purchase the DVD.
Vocabulary terms and names: collaborator, communists, France, French Resistance, gendarme, identification, Jewish ancestry, labor camp, Nazis, Occupied France, partisans, RAF (Royal Air Force), Vichy France

Review and discussion questions: (1) Charlotte Gray is originally from where? (2) Describe the two zones which existed in France during World War II. (3) What happens to Peter Gregory in France? (4) Who is Dominique Gilbert? (5) What is Charlotte supposed to deliver in France? (6) Who is Julien Levade? (7) Why does Charlotte kiss Julien in public? (8) What happens to Julien's fellow partisans at the makeshift air strip? (9) What becomes of Andre and Jacob? (10) What does Charlotte deliver to her friends on the train? (11) Imagine that you are living in France during the Second World War. Would you become a partisan or collaborator, or neither? Explain your answer.
Charlotte Gray Movie Review Publication Date for Citation Purposes: June 30, 2012