Launching a New Domestic Policy
In practice, Clinton's centrism demanded choices that sometimes elicited vehement emotions. The president's first policy initiative was designed to meet the demands of gays, who, claiming a group status as victims of discrimination, had become an important Democratic constituency.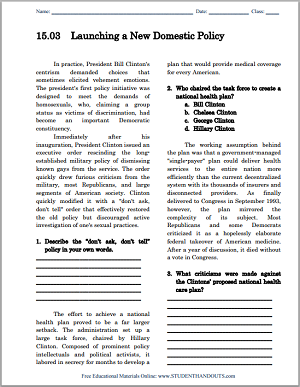 Immediately after his inauguration, President Clinton issued an executive order rescinding the long-established military policy of dismissing known gays from the service. The order quickly drew furious criticism from the military, most Republicans, and large segments of American society. Clinton quickly modified it with a "don't ask, don't tell" order that effectively restored the old policy but discouraged active investigation of one's sexual practices.
The effort to achieve a national health plan proved to be a far larger setback. The administration set up a large task force, chaired by Hillary Clinton. Composed of prominent policy intellectuals and political activists, it labored in secrecy for months to develop a plan that would provide medical coverage for every American.
The working assumption behind the plan was that a government-managed "single-payer" plan could deliver health services to the entire nation more efficiently than the current decentralized system with its thousands of insurers and disconnected providers. As finally delivered to Congress in September 1993, however, the plan mirrored the complexity of its subject. Most Republicans and some Democrats criticized it as a hopelessly elaborate federal takeover of American medicine. After a year of discussion, it died without a vote in Congress.
Clinton was more successful on another matter with great repercussions for the domestic economy. The previous president, George Bush, had negotiated the North American Free Trade Agreement (NAFTA) to establish fully open trade between Canada, the United States, and Mexico. Key Democratic constituencies opposed the agreement. Labor unions believed it would encourage the export of jobs and undermine American labor standards. Environmentalists asserted that it would lead American industries to relocate to countries with weak pollution controls. These were the first indications of a growing movement on the left wing of American politics against the vision of an integrated world economic system.
President Clinton nonetheless accepted the argument that open trade was ultimately beneficial to all parties because it would lead to a greater flow of more efficiently produced goods and services. His administration not only submitted NAFTA to the Senate, it also backed the establishment of a greatly liberalized international trading system to be administered by the World Trade Organization (WTO). After a vigorous debate, Congress approved NAFTA in 1993. It would approve membership in the WTO a year later.
Although Clinton had talked about a "middle class tax cut" during the presidential campaign, he submitted to Congress a budget calling for a general tax increase. It originally included a wide tax on energy consumption designed to promote conservation, but that was quickly replaced by a nominal increase in the federal gasoline tax. It also taxed social security benefits for recipients of moderate income and above. The big emphasis, however, was on increasing the income tax for high earners. The subsequent debate amounted to a rerun of the arguments between tax cutters and advocates of "fiscal responsibility" that had marked the Reagan years. In the end, Clinton got his way, but very narrowly. The tax bill passed the House of Representatives by only one vote.
By then, the congressional election campaigns of 1994 were under way. Although the administration already had made numerous foreign policy decisions, issues at home were clearly most important to the voters. The Republicans depicted Clinton and the Democrats as unreformed tax and spenders. Clinton himself was already beleaguered with charges of past financial impropriety in an Arkansas real estate project and new claims of sexual impropriety. In November, the voters gave the Republicans control of both houses of Congress for the first time since the election of 1952. Many observers believed that Bill Clinton would likely be a one-term president. Apparently making a decision to conform to new political realities, Clinton instead moderated his political course. Policy initiatives for the remainder of his presidency were few. Contrary to Republican predictions of doom, the tax increases of 1993 did not get in the way of a steadily improving economy.
The new Republican leadership in the House of Representatives, by contrast, pressed hard to achieve its policy objectives, a sharp contrast with the administration's new moderate tone. When right-wing extremists bombed an Oklahoma City federal building in April 1995, Clinton responded with a tone of moderation and healing that heightened his stature and implicitly left some doubts about his conservative opponents. At the end of the year, he vetoed a Republican budget bill, shutting down the government for weeks. Most of the public seemed to blame the Republicans.
The president also co-opted part of the Republican program. In his State of the Union address of January 1996, he ostentatiously declared, "The era of big government is over." That summer, on the eve of the presidential campaign, he signed a major welfare reform bill that was essentially a Republican product. Designed to end permanent support for most welfare recipients and move them to work, it was opposed by many in his own party. By and large, it would prove successful in operation over the next decade.
Directions: Read the text above, then answer the questions below.
1. Describe the "don't ask, don't tell" policy in your own words.
2. Who chaired the task force to create a national health plan?
a. Bill Clinton
b. Chelsea Clinton
c. George Clinton
d. Hillary Clinton
3. What criticisms were made against the Clintons' proposed national health care plan?
4. What president negotiated NAFTA (North American Free Trade Agreement)?
a. Bill Clinton
b. George H.W. Bush
c. George W. Bush
d. Ronald Reagan
5. WTO is an acronym for what?
6. Clinton's final tax plan, as passed by the legislature, included a wide tax on energy consumption designed to promote conservation.
a. True
b. False
7. What political party gained control of both houses of Congress in the congressional elections of 1994?
a. Democrats
b. Communists
c. Republicans
d. Socialists
8. In April of 1995, a federal building was bombed by right-wing extremists in what U.S. city?
a. Chicago, Illinois
b. New York, New York
c. Oklahoma City, Oklahoma
d. San Diego, California
9. Based on your knowledge of Bill Clinton's presidency, was he an effective leader? Why or why not?
Answer Key: 1. Answers will vary; 2. D - Hillary Clinton; 3. Answers will vary, but should include that it was seen as too elaborate, and an unwelcome federal takeover; 4. B - George H.W. Bush; 5. World Trade Organization; 6. B - False; 7. C - Republicans; 8. C - Oklahoma City, Oklahoma; 9. Answers will vary.
Text courtesy of the U.S. State Department, Bureau of International Information Programs, 2005