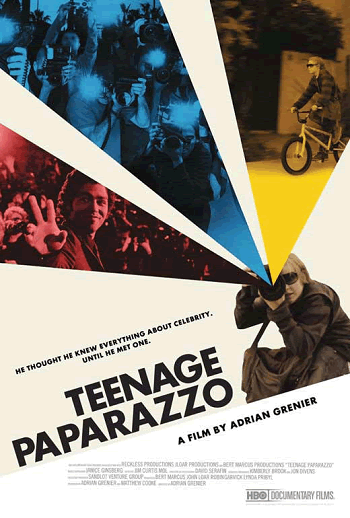 Length: 94 minutes (1 hour, 34 minutes)

Accuracy: Documentary filmmaker Adrian Grenier enjoys a high level of access to celebrities because he is, in fact, a celebrity himself. Adrian Grenier starred as fictional celebrity Vincent Chase for eight seasons on HBO's "Entourage."

Review: Teenage Paparazzo examines the public's fascination with celebrities by focusing on a teenage boy's quest to become a member of the paparazzi. The paparazzi are those photographers whose careers involve staking out celebrities for unique, personal looks at their daily lives, the more scandalous the better. Austin Visschedyk, the focus of this documentary, was only thirteen years old when filming began.

The film cuts between Austin photographing celebrities, his home life, and insight from celebrities and intellectuals on how and why the public is obsessed with the concept of celebrity. According to Henry Jenkins of MIT, we gossip about celebrities in order to share our moral values. Celebrities are the commonly known reference points for all of us, just like the "town drunk" or "town slut" of a century ago. We look to celebrities as our role models (both for what to emulate and what to avoid).

Teenage Paparazzo will make for great classroom or home viewing for any teens who appear to be obsessed with celebrities and celebrity gossip. Adrian Grenier's documentary film encourages critical thinking regarding the importance we place on famous people. It is truly unique, looking at celebrity simultaneously through the eyes of a child and the eyes of someone who literally became famous by playing someone famous on television.

Age Appropriateness Rating: The documentary film Teenage Paparazzo is not officially rated (NR) in the United States. The film includes swearing, as well as references to alcohol, drugs, and sex, but nothing that should be particularly shocking to the typical American teenager. This film is most appropriate beginning with those in high school (age 14 and up).

Creators and Stars: Adrian Grenier, Alec Baldwin, Austin Visschedyk, Brad Elterman, Britney Spears, Brooke Shields, Cameron Diaz, Erykah Badu, Eva Longoria, Floyd Mayweather Jr., Henry A. Flores, Jake Halpern, Jaleel White, James Hosney, Jerry Ferrara, Kevin Connolly, Kevin Dillon, Lewis Black, Lindsay Lohan, Mario Lopez, Martin Landau, Matt Damon, Michelle Rodriguez, Noam Chomsky, Paris Hilton, Perez Hilton, Rosie O'Donnell, Steve Sands, Thomas de Zengotita, Whoopi Goldberg
Miscellaneous: After viewing Teenage Paparazzo, I was fortunate enough to attend a Q&A with Adrian Grenier and Thomas de Zengotita, a contributing editor of Harper's who appears in the film. At this question-and-answer session, Grenier and de Zengotita discussed the ways we all exist in public space. In addition to discussing the film itself, the points raised in this Q&A should make for some interesting post-film questions.

Adrian Grenier remarked that Tom had given him the concept that "we're performing our lives." We each present to the world the side of ourselves that we want to show. Adrian pointed out that young people should be aware that the image we present of ourselves--our "schtick"--is within our control, and therefore, we each have the power to change how the world sees us.

Later, Mr. Grenier was kind enough to answer a few of our questions about "Teenage Paparazzo." Read the interview here. Click here to enlarge the film poster.
Teenage Paparazzo Movie Review Publishing Date for Citation Purposes: April 18, 2012