Ancient Greece Outlines and Powerpoints
| | | | | | | | | | | |
| --- | --- | --- | --- | --- | --- | --- | --- | --- | --- | --- |
| | | | | | | | | | | |
| | Ancient Crete PowerPoint | | Ancient Crete Outline | | Ancient Greece History Outline | | Ancient Greece PowerPoint | | Alexander the Great PowerPoint | |
| | | | | | | | | | | |
| --- | --- | --- | --- | --- | --- | --- | --- | --- | --- | --- |
| | | | | | | | | | | |
| | Alexander the Great Outline | | | | | | | | | |
Our free outlines and PowerPoint presentations can be valuable tools for World History students studying ancient Greece by providing structure, visual aids, and a clear organization of information.

Outlines:
Structural Organization: Our outlines offer a structured framework for presenting historical information on the ancient Greeks. They can be used to break down complex topics into manageable sections, making it easier for students to follow and understand the chronological flow of events and concepts in ancient Greek history.
Concise Summaries: Our free printable outlines on ancient Greece condense information into key points and subpoints. This brevity helps students focus on the most essential facts and concepts, promoting effective learning and memory retention.
Study Guides: Students can use our outlines as study guides. They serve as a roadmap for reviewing the material and help students identify areas where they need more in-depth study.
Aid for Note-Taking: These outlines can be used for note-taking during lectures or while reading textbooks. Students can quickly jot down key points, enhancing their engagement with the material.
Customization: The outlines are flexible and can be tailored to meet specific learning objectives or the curriculum. Educators and students can adapt them to suit their needs when studying "the glory that was Greece.".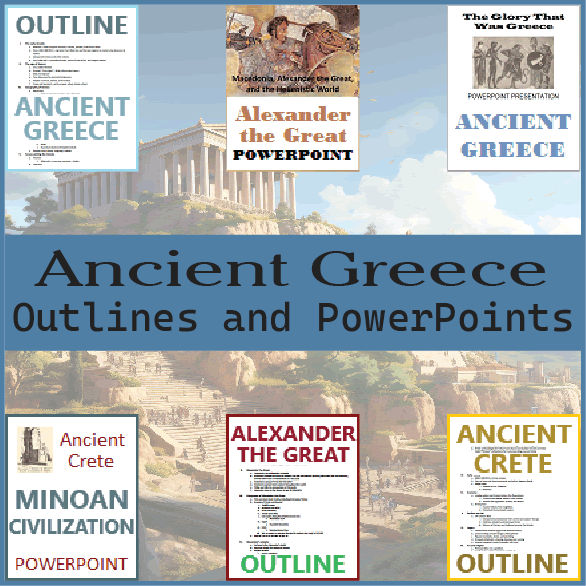 PowerPoint Presentations:
Visual Representation: Our free PowerPoint presentations offer a visual representation of historical topics in ancient Greek history. They can include images, maps, charts, and diagrams, that help students visualize ancient Greek geography, artifacts, and historical events.
Engagement: The visual elements in our PowerPoint presentations can enhance student engagement. Interactive features like hyperlinks and multimedia can provide an immersive learning experience.
Organization: These PowerPoint slides allow for the orderly presentation of content. Each slide can cover a specific aspect of ancient Greece, making it easy for students to grasp individual topics and their connections.
Clarity: Our PowerPoint presentations promote clarity in presenting information. Text and visuals can be carefully arranged for optimal understanding, helping students grasp the content more easily, be it Athens or Alexander the Great.
Lectures and Discussions: Educators can use these PowerPoint presentations during lectures and class discussions to supplement their teaching. They can highlight key points and facilitate class engagement and participation.
Review Materials: Our free PowerPoint presentations can serve as review materials for students, providing a visual summary of important topics within the Grecian historical framework. Students can revisit these presentations to reinforce their understanding.
When used effectively, our free outlines and PowerPoint presentations can be valuable aids in World History education on ancient Greece. They are offered to help students and educators organize and convey information in a comprehensible and engaging manner, promoting effective learning and knowledge retention.