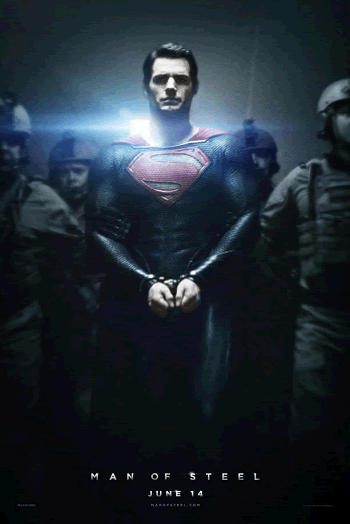 Length: 143 minutes (2 hours, 23 minutes)

Age appropriateness: Man of Steel is officially rated PG-13 in the United States. There is no nudity or sex, and only a bit of mild profanity (e.g., "sh*t"). The violence is free of gore. This film is safe for classroom viewing for grades 7 and up.

Creators and stars: Warner Brothers, Amy Adams, Antje Traue, Ayelet Zurer, Christopher Meloni, Cooper Timberline, David S. Goyer, Diane Lane, Dylan Sprayberry, Harry Lennix, Henry Cavill, Kevin Costner, Laurence Fishburne, Michael Shannon, Richard Cetrone, Richard Schiff, Russell Crowe, Zack Snyder

Review: Man of Steel sees a rebirth of the Superman franchise, not seen in theaters since Superman Returns (2006). Henry Cavill stars as Kell-El/Clark Kent. Amy Adams is Lois Lane. They are joined by a host of other stars in what should, theoretically, be a great film. But it's not.

Discussing it with a friend, we were stupefied. Man of Steel seems like several Superman movies rolled into one, with no coherent plot. If you've seen the older Superman movies, it's a bit like Superman (1978) and Superman II (1980) rolled into one. Viewers see everything from Superman's birth to his defeat of General Zod (Michael Shannon). The opening sequence, set on Krypton, with Russell Crowe as Jor-El (Superman's father), is far too long, as are scenes from Superman's childhood with Kevin Costner as Jonathan Kent, Superman's human father. I got the impression that the writer and director, having so many great actors and actresses working on this project, opted to give them screen time at the expense of having a coherent story.

To top it all off, the movie also includes some of the most obvious and pathetically pandering Christian symbolism I've ever seen. Fans of the DC Comics stories want to see Clark and Lois flirt, alongside awe-inspiring action. No one wants to watch a Superman character that serves as a metaphor for Jesus Christ. Christians don't need Superman to light the way; and non-Christians simply roll their eyes at this stuff.

The star, Henry Cavill, did a great job with the mediocre dialog he was given. And, thanks to the many scenes given to the bigger names in the cast, Mr. Cavill is not seen much when not fighting the bad guys. It's a shame because he's incredibly handsome (not just my opinion; every woman I know who's seen this film has remarked upon it) and apart from landing this title role, isn't yet the huge star he could easily be.

In short, Man of Steel has got great actors and terrific special special effects. But the plot is all over the map, making it unbearably long to sit through in a theater (nearly 2 1/2 hours). Click here to enlarge the film poster.
Man of Steel Movie Review Publication Date for Citation Purposes: June 30, 2013