Printable Cryptogram Puzzles
| | | | | | | | | | | |
| --- | --- | --- | --- | --- | --- | --- | --- | --- | --- | --- |
| | | | | | | | | | | |
| | Decipher the Code for a Passage from Charles Dickens | | Age of Exploration Decipher-the-Code Puzzle | | Settlement in the Americas Cryptogram Worksheet | | Early Chinese Civilization Decipher-the-Code Puzzle | | Neolithic Revolution Cryptogram | |
| | | | | | | | | | | |
| --- | --- | --- | --- | --- | --- | --- | --- | --- | --- | --- |
| | | | | | | | | | | |
| | India's Maurya Empire Decipher-the-Code Puzzle | | Ancient Sumer Code Puzzle #1 | | Ancient Sumer Code Puzzle #2 | | Ancient Roman Empire Decipher-the-Code Puzzle | | Classical Civilizations Code Puzzle Worksheet | |
| | | | | | | | | | | |
| --- | --- | --- | --- | --- | --- | --- | --- | --- | --- | --- |
| | | | | | | | | | | |
| | Anthropology Terms Code Puzzle #1 | | Anthropology Terms Code Puzzle #2 | | Anthropology Terms Code Puzzle #3 | | Anthropology Terms Code Puzzle #4 | | Global Absolutism Code Puzzle Worksheet | |
| | | | | | | | | | | |
| --- | --- | --- | --- | --- | --- | --- | --- | --- | --- | --- |
| | | | | | | | | | | |
| | German Unification Decipher-the-Code Puzzle | | Renaissance Decipher-the-Code Puzzle Worksheets | | Emergence and Spread of Belief Systems Code Puzzle | | World War II in the Pacific Sheet of Code Puzzles | | Japan in World War II Code Puzzle | |
| | | | | | | | | | | |
| --- | --- | --- | --- | --- | --- | --- | --- | --- | --- | --- |
| | | | | | | | | | | |
| | World War II Code Puzzle | | Rise of Benito Mussolini in Italy Code Puzzle | | American Revolution Cryptogram | | U.S. War for Independence Cryptogram | | Earliest British Colonies Cryptogram | |
| | | | | | | | | | | |
| --- | --- | --- | --- | --- | --- | --- | --- | --- | --- | --- |
| | | | | | | | | | | |
| | English Colonies Come of Age Cryptogram | | | | | | | | | |
Cryptogram puzzles can be a useful tool for students of English Language Arts (ELA) and other school subjects in several ways:

Vocabulary Expansion: Cryptograms often involve the use of uncommon or less frequently used words. Solving these puzzles can introduce students to new vocabulary words, expanding their language skills.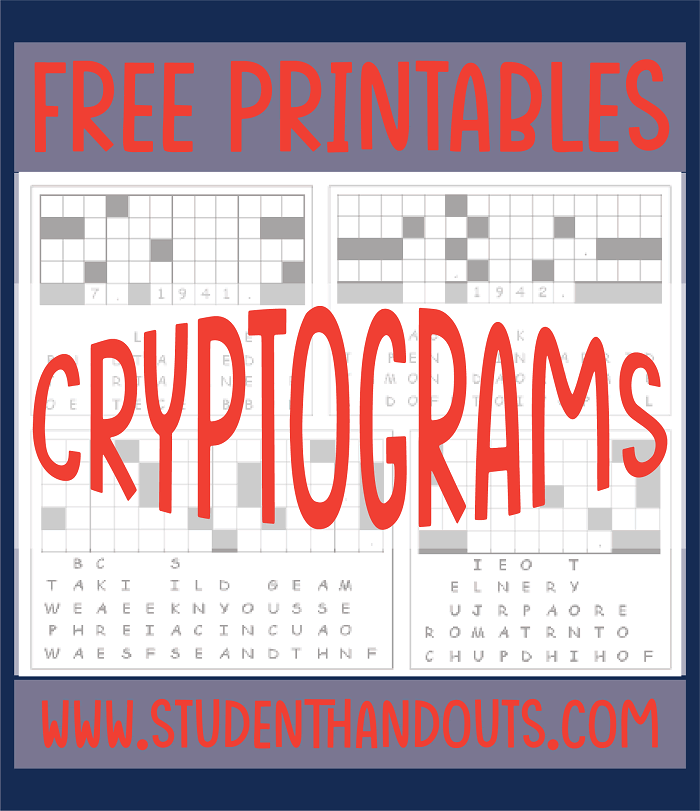 Word Recognition: To solve cryptograms, students must carefully analyze and decipher the coded message. This process requires them to pay close attention to the letters in words and helps improve their word recognition skills.

Spelling Practice: Cryptograms necessitate correct spelling since a single letter mistake can lead to an incorrect solution. Students are motivated to spell words accurately while solving these puzzles.

Context Clues: Cryptograms typically require students to use context clues and knowledge of language patterns to decode the message. This reinforces their ability to extract meaning from context, a crucial skill in ELA.

Critical Thinking: Decrypting a decipher-the-code puzzle involves logical thinking and problem-solving. Students must consider various possibilities for each letter and use deductive reasoning to uncover the correct letters.

Grammar Awareness: Cryptograms often include punctuation marks and grammatical structures. Students must recognize these elements to make sense of the coded message, which can enhance their understanding of grammar rules and usage.

Reading Comprehension: Deciphering cryptograms requires careful reading and comprehension of the coded text. Students must think critically about the message's meaning and how it relates to the context.

Motivation: Cryptograms can be fun and engaging, motivating students to practice their language skills voluntarily. This intrinsic motivation can be valuable in promoting a love for language and literacy.

Literary Analysis: Some cryptograms are based on quotes or excerpts from literary works. Solving these puzzles can spark discussions about literature, encouraging students to analyze and interpret text.

Attention to Detail: Cryptograms demand a high level of attention to detail. Students must analyze each letter and its potential significance within the message, which can improve their overall reading and writing skills.

Cognitive Skills: Solving cryptograms exercises cognitive skills such as pattern recognition, memory, and logical reasoning. These skills are transferable and can benefit students in various academic areas.

Differentiation: Cryptograms can be tailored to students' skill levels, making them a versatile tool for differentiation in the classroom. Teachers can provide easier puzzles for beginners and more challenging ones for advanced students.

Overall, cryptogram puzzles can serve as an enjoyable and educational supplement to traditional ELA and other academic instruction. They offer opportunities for vocabulary enrichment, critical thinking, and language skill development, while engaging students in a fun and interactive way.